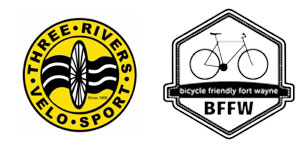 Bicycle Friendly Fort Wayne and Three Rivers Velo Sport present Blessing of the Bicycles
At 6:30 pm the fourth annual Blessing of the Bicycles will take place. Pastor Thomas Eggold of Emmanuel Lutheran Church will be performing the blessing. Come on out before the ride of silence and have your favorite bicycle blessed!
Ride of Silence
At 7:00 pm, the ride of silence will begin in North America and roll across the globe. Cyclists will take to the roads in a silent procession to honor cyclists who have been injured or killed while cycling on public roadways.The ride of silence is a free event, and will begin directly after the blessing of the bicycles.
Helmets are required.