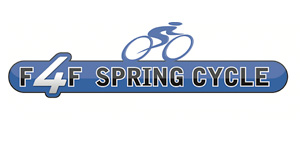 The 11th Annual Spring Cycle event will feature a variety of tour distances so people of all ages and skill levels can participate! Tour distances include a 8 Mile Family Ride, medium and long distances, and a Metric Century 100K (63 miles). All distances are the same price.
Fort4Fitness is looking forward to an exciting event! The Start/Finish Line location is at Promenade Park and tour routes (the Metric Century 100K course will go southwest into Huntington). This is the perfect event for casual family rides and serious cyclists alike! All participants will receive a Spring Cycle t-shirt and finisher medal.
Those who are not comfortable participating in person can still participate virtually! Virtual Spring Cycle participants can complete their tour at any time and place of their choosing, and they will receive a t-shirt and medal.
View 2021 Spring Cycle Photos.
Click here for the 2021 program.
Register at www.fort4fitness.org.
Already registered? Click here to confirm your entry.
Join us on June 4th to connect and make memories with family, friends, and the city of Fort Wayne!
Fort4Fitness is a nonprofit 501(c)3 organization committed to inspiring healthy living through fitness in the Greater Fort Wayne region.